Finland's top diplomat suggested on Tuesday that the country may have to consider joining NATO without Sweden after Turkey's president expressed serious doubts over expanding the military alliance.
Foreign Minister Pekka Haavisto told Finnish broadcaster YLE, "We still have to evaluate the situation if it turns out that Sweden's application is going to stall for a long time to come."
His comments came after Turkish President Recep Tayyip Erdogan warned Sweden not to expect support for its bid for NATO membership after weekend protests in Stockholm by anti-Islamist activists and pro-Kurdish groups.
It was the first time a major government official in either country appeared to express skepticism about joining the coalition. Haavisto later told reporters in parliament that his comments on Tuesday were "imprecise" and that Finland's ambition to join NATO jointly with Sweden remained unchanged.
Turkey will oppose Sweden's membership in NATO after Stockholm protests, Quran burned
He said he had spoken with NATO Secretary-General Jens Stoltenberg, who stressed to Haavisto that the military bloc would like to see the two Nordic countries together.
"But there have certainly been concerns within NATO about how the (recent) events in Sweden will affect the schedule," Haavisto said.
Sweden and Finland's bid to join NATO requires the approval of all current NATO members, including Turkey, which has so far blocked expansion, saying Sweden needs to crack down especially on exiled Kurdish militants and their sympathizers. Need to crack down.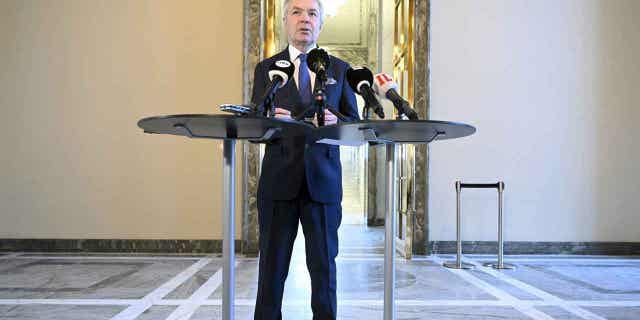 So far, Sweden and Finland have remained committed to joining the alliance together, but Haavisto's comments to YLE raised concerns that Finland was considering moving forward without its Nordic neighbor.
Turkey says Swedish decision not to investigate Kurdish protest 'absurd'
In a statement to The Associated Press, Swedish Foreign Minister Tobias Billström said, "We are in contact with Finland about exactly what that means." "Sweden respects the agreement between Sweden, Finland and Turkey regarding our NATO membership. We have done so so far and we will continue to do so."
In a memorandum of understanding signed by the three countries at a NATO summit last year, Sweden and Finland committed not to support Kurdish militant groups and to remove arms embargoes imposed on Turkey following its incursion into northern Syria in 2019.
Pro-Kurdish and anti-Turkish demonstrations in Stockholm have complicated the process. On Saturday, a Danish far-right activist protested outside the Turkish embassy in Stockholm, where he burned Islam's holy book, the Quran. A separate pro-Kurdish protest was held in the Swedish capital on Saturday.
The Swedish government has tried to distance itself from the demonstrations, while insisting that such protests are permitted under the country's freedom of expression.
Turkey reacted angrily to the protests, canceling a planned visit to Ankara by the Swedish defense minister. Protests were held outside the Swedish diplomatic missions in Ankara and Istanbul.
Click here to get the Fox News app
Erdogan slammed Swedish authorities for allowing a demonstration of Quran burning.
He said, "It is clear that those who allowed this kind of despicability to happen in front of our embassy can no longer expect any donations from us regarding their NATO membership application."
He also criticized the pro-Kurdish demonstrations, accusing Sweden of letting "terrorist organizations run wild on your avenues and streets". He added that if Sweden would not show respect to Turkey or Muslims, "they would not see any support from us on the NATO issue."