India and Egypt on Wednesday agreed to boost trade between their countries during the visit of Egyptian President, underscoring Prime Minister Narendra Modi's efforts to strengthen ties with other emerging economies.
Modi and President Abdel Fattah el-Sisi agreed on measures to increase two-way trade to $12 billion within five years. A total trade of $ 7.3 billion in 2021-22. The two countries also signed agreements to enhance cooperation in cyber security, information technology, culture and broadcasting.
Modi and al-Sisi expressed concern over the disruption of food supplies and other vital resources due to the war in Ukraine. Modi sought Egypt's cooperation in fighting cross-border terrorism, extremism and cyber threats.
Indian Army General said, the situation on the border with China is 'unpredictable'
Egypt's economy has been hit by the pandemic in Ukraine and the war with Russia, which has pushed oil and other commodity prices to record highs. One of the world's biggest importers of wheat, it last year received help from the World Bank to finance its grain purchases as supplies from Ukraine were disrupted.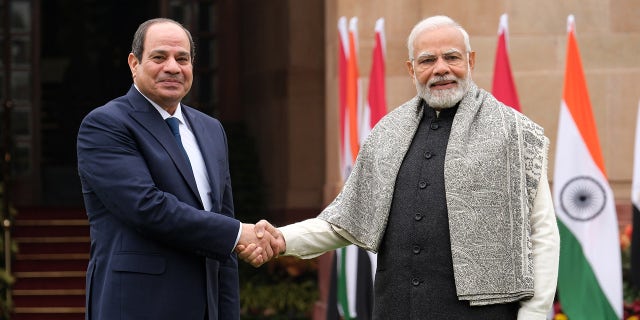 Imports from India, which made an exception for countries such as Egypt facing severe shortages even as it banned most wheat exports, helped bridge the gap.
India will overtake China to become world's most populous country in next 3 months: UN report
India is among the top five importers of Egyptian products including crude oil and liquefied natural gas, salt, cotton, inorganic chemicals and oilseeds. Major Indian exports to Egypt include cotton yarn, coffee, herbs, tobacco, pulses, vehicle parts, ships, boats and electrical machinery.
Al-Sisi invited Indian businesses to invest more in the Suez Canal Economic Zone. According to India's Ministry of External Affairs, more than 50 Indian companies have invested about $3.15 billion in various sectors of the Egyptian economy, including chemicals, energy, textiles, clothing, agri-business and retail.
Click here to get the Fox News app
India is the host country for the Group of 20 major economies this year and Modi has invited el-Sisi to attend as his special guest.
El-Sisi will be the chief guest at India's Republic Day parade on Thursday, marking the anniversary of the adoption of the country's constitution on January 26, 1950. India gained independence from British colonial rule in 1947.