Debt-ridden Sri Lanka's central bank chief said on Wednesday that the country is making good progress in talks with its creditors to obtain financial assurances for debt restructuring, a key step towards finalizing an International Monetary Fund rescue plan. step.
Sri Lanka is bankrupt and has suspended repayment of its $51 billion foreign debt, of which $28 billion is to be repaid by 2027.
It has reached a preliminary agreement with the IMF for a $2.9 billion rescue package over four years. Its completion hinges on assurances on debt restructuring from creditors that include China, India and the Paris Club, a grouping of major creditor countries.
India announced last week that it has given its assurance to the IMF to facilitate the bailout plan. India has extended $4.4 billion in official line of credit to Sri Lanka, excluding other forms of credit.
Sri Lankan President flees the country, protesters storm PM's office, state of emergency declared
"Other bilateral creditors, the Paris Club, China and smaller bilateral creditors are in the process of issuing financial assurances," said Sri Lankan Central Bank Governor Nandalal Weerasinghe.
"The process is progressing very well," Weerasinghe told reporters at his office, adding that the country hoped "to receive the necessary financial assurances from all our creditors in a very short time."
Sri Lanka has borrowed heavily from China over the past decade for infrastructure projects, including a port, airport and a city being built on reclaimed land. The projects failed to generate enough revenue to pay off the debt, a factor in Sri Lanka's economic crisis.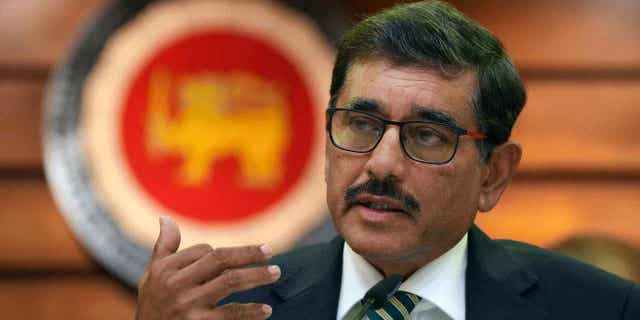 China accounts for about 10% of Sri Lanka's debt, followed by Japan and the Asian Development Bank. However, its approval is crucial for restructuring its loans.
Sri Lankan President stopped by airport staff as he tries to flee the country after protesters storm his home
Sri Lanka's economic crisis and resulting food, medicine, fuel and cooking gas shortages sparked riots last year, which forced the president to flee the country and later resign.
Sri Lanka has since shown some signs of progress, with shortages having eased and day-to-day operations restored. However, daily power cuts continue due to fuel shortage and the government is struggling to find money to pay salaries of government employees and perform other administrative tasks.
Click here to get the Fox News app
It announced this month it was cutting 6% from each ministry's budget this year and planning to reduce the army, which had swelled to more than 200,000 personnel due to a protracted civil war. The government plans to almost halve the size of the military by 2030.