The Albanian government on Wednesday formally designated the Vjosa River and its tributaries a national park, beginning an investment of some $80 million to stop wastewater being dumped into the river.
Officials held a ceremony aimed at preserving one of the last wild rivers in Europe, which runs 170 miles from the forest-covered slopes of Greece's Pindus mountains to Albania's Adriatic Sea coast.
"Today we protect Europe's last wild river forever," said Prime Minister Edi Rama. Albanian officials say the free-flowing Vjosa is largely untouched by development and human obstructions.
Albania's prime minister accuses UK of 'planned attack' after being blamed for migrant crossing
Tourism and Environment Minister Mirela Cumbaro said the national park would cover more than 32,000 acres, including a 120-mile-long Albanian section of the river, where more than 60,000 people live.
The river and its surrounding areas are ecosystems with substantial biodiversity and are home to over 1,100 species of animals. Two of the plant species and 13 of the animal species are assessed as globally threatened by the International Union for Conservation of Nature, or IUCN.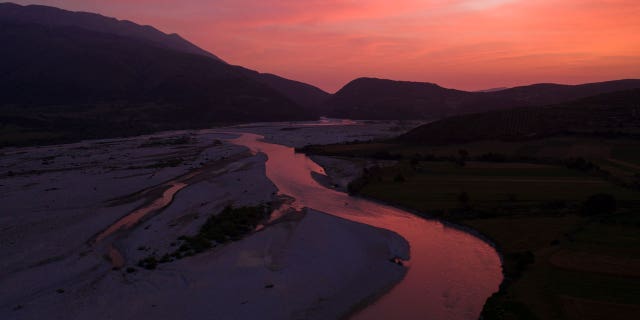 The project will seek to address water and land pollution, waste management and deforestation. Additionally, officials say, the national park will create economic opportunities for local communities through responsible tourism, and help reduce overpopulation.
Cumbaro's ministry has signed an agreement with Patagonia, a California-based outdoor clothing company that supports environmental projects, to assist with the plan.
"Standing on the banks of the Vajosa today, we are happy to know that this extraordinary river and its wildlife will be protected forever," said Ryan Gellert, CEO of Patagonia.
Albania's Prime Minister Denies He Paid Bribes, FBI Agent Was Preferred
Boris Erg, director of IUCN's European regional office, commended Tirana for the decision and offered to support its implementation. He called on other regional governments to show similar ambition and help achieve the "important target" of protecting 30% of the planet by 2030.
The government of Albania has canceled plans for eight hydroelectric power stations on the Vjosa and its tributaries. Environmentalists say that the dams would have caused serious damage to the river.
Officials now need to decide what to do with the half-completed hydroelectric power station at Kalivac on the Vjosa.
Click here to get the Fox News app
Environmentalists also warn that a new, multimillion-euro international airport being built where the Vjosa River flows into the Adriatic near the city of Vlora will cause irreparable damage to the delicate ecosystem of the protected lagoon that is home to flamingos, pelicans and millions of other species. hosts other migratory birds. ,