Brazilian President Luiz Inacio Lula da Silva on Wednesday announced measures to promote and protect women, after years of setbacks to their cause that were blamed for the rise of far-right forces.
At a ceremony in the capital, Brasilia, Lula presented a package of more than 25 measures, the most important of which is a bill that would guarantee equal pay for women and men who do the same work.
He also announced plans to spend $72 million to build domestic violence shelters and $19 million for women-led science projects.
Brazil's Lula sworn in as new president after Bolsonaro reportedly fled to Florida home of MMA fighter
The President has expressed his gratitude for the votes of women who helped him defeat incumbent Jair Bolsonaro in the 2022 election. And on Wednesday he blamed his predecessor for policy decisions that harmed Brazilian women.
Accompanied by his women ministers for celebrations on International Women's Day, the President said, "The previous government showed a lack of respect when it destroyed public policies, cut essential budgetary resources and opted for covertly motivated violence against women. "
A record 11 of Lula's 37 ministers are women. During most of his administration, Bolsonaro only had two female ministers.
Many of Lula's announced measures are by decree, including spending on shelters and science projects. Others, however, require congressional approval and given that Lula's legislative base has not yet been consolidated, it is difficult to predict whether he will have enough votes, said Beatriz Rey, member of the Brazilian Congress. a senior researcher at the Center for Studies at the State University of Rio de Janeiro.
"It is possible that some support across party lines will help the administration on this specific issue of pay parity," Ray said in a telephone interview.
Advocates say the policies of Bolsonaro's administration were linked to the spread of militancy in Brazil, which simultaneously contributed to the deterioration of gender equality.
"Bolsonaro was not the cause; he was a symptom of something larger, which is the consolidation and rise of the extreme right in Brazilian society," said Samira Bueno, executive director of the Brazilian Forum on Public Security, a non-profit organization. Which last week published a report showing an 18.4% increase in all forms of gender-based violence in 2022.
Bueno told The Associated Press that such forces have been gathering over the past decade, pointing to the Schools Without Party movement as an example of efforts to teach parents and children sex education and women's rights. Encouraged to report teachers who do so.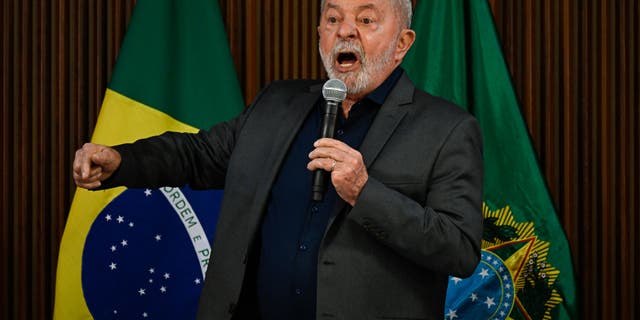 Bueno said Bolsonaro's easing of gun controls has fueled domestic violence. In 2022, 5.1% of women said they had been threatened with a knife or firearm, as opposed to 3.1% in 2021, according to a recent report from her group.
Bueno said, "This increase didn't happen all of a sudden. It happened because you had a federal government policy to allow more citizens to own and carry firearms."
On January 1, Lula's first day in office, he rolled back some of Bolsonaro's orders to loosen gun control. His government also required citizens to register their guns with federal police by a deadline later this month; Only a fraction had done so by mid-February as the pro-gun lobby aligned with Bolsonaro pushed back the registration effort.
There is also an expectation, among campaigners and civil society, that Lula will restart policies and programs that have worked in the past but were hit by budget cuts. This includes the revitalization of a national hotline for domestic violence victims, which lost funding during the Bolsonaro government.
A study published in March 2022 by the Brasilia-based non-profit Institute for Socioeconomic Studies showed that funding for hotlines fell 42% from 2019 to 2021, to 25.8 million reais. The same study found that the amount budgeted for the Ministry for Women and Human Rights to fight gender-based violence in 2022 was the lowest in four years.
Brazil's Lula takes oath, vows to rebuild country, holds outgoing Bolsonaro administration accountable
And, in 2021, only 0.01% of the Ministry of Justice's National Public Security Fund went to programs to fight gender-based violence; A law passed last year established a minimum of 5%.
Speaking to the AP on Wednesday in Paraisopolis, Sao Paulo's second largest favela, or slum, Juliana da Costa Gomes stressed the influence of Bolsonaro's government in increasing domestic violence and undermining the women's cause.
"But I think we are living in another moment," said Gomes, 37, who in 2017 founded a program to provide professional training to women in vulnerable situations, nearly a decade after she founded the women's association of the favela. Helped in setting up. "It is a moment of hope, for a new Brazil that can be better for women."
At the ceremony on Wednesday, Lula also issued a decree guaranteeing the distribution of free menstrual pads for all poor and vulnerable women; Bolsonaro vetoed a bill in 2021 that sought to do so.
Lula was accompanied by First Lady Rosangela da Silva, better known as Janja, who has been a frequent presence in both his private meetings and public events. She recently took up an official position within his government, advising the president along with ministries.
In contrast, Bolsonaro's wife, Michelle, who had been out of sight during the first three years of his administration, came to the fore during the 2022 campaign in an effort to win votes from women and evangelicals.
Click here to get the Fox News app
"If it were up to this government, inequality would be ended by decree today. But it is necessary to change policies, mindsets and an entire system built to perpetuate male privilege. And this, my friends, with a lot of fighting only possible." Lula said.