A 38-year-old Canadian man is facing two charges of causing death by dangerous driving and authorities said on Tuesday they expected more charges, alleging he randomly selected children including children in an eastern Canadian town. The vehicle intentionally drove over pedestrians, killing and injuring two people. nine people.
Police declined to comment on a possible motive for Monday afternoon's incident in the Quebec province town of Amqui, about 350 kilometers northeast of Quebec City. A senior Canadian official ruled out terrorism.
Steve Gagnon – a thin, bearded man wearing glasses and a gray T-shirt – did not speak in court Tuesday. His attorney, Hugo Cassie, said his client understood the two charges against him and asked the judge to waive the requirement that the bail hearing be held within three days.
Pickup truck crushes pedestrians in Canada, 2 killed, 9 injured
Prosecutor Simon Blanchett said there would undoubtedly be more charges once all the evidence was gathered.
The case will return to court on April 5, and Gagnon remains in custody until then.
Police had previously said that the accused would be charged with murder in connection with the death, adding that the suspect acted deliberately and with premeditation.
Quebec provincial police have said their investigation shows the driver drove a considerable distance from one side of the road to the other to hit the victims, who were chosen at random.
Sgt. Claude Diron told reporters that police believed the crash was intentional but did not suggest a motive.
"We are talking about pedestrians who were actually walking on both sides (of the road) at a certain distance," he said.
Gérald Charest, 65, and Jean Lafrenière, 73, were killed.
Last month in Laval, Quebec, police said a city bus driver intentionally smashed into a daycare center, killing two children. Witnesses said that soon after the bus crashed into the building, the driver got out of the bus, tore his clothes and started screaming.
Quebec Premier François Legault said, "I feel terrible because this is happening for the second time in a month."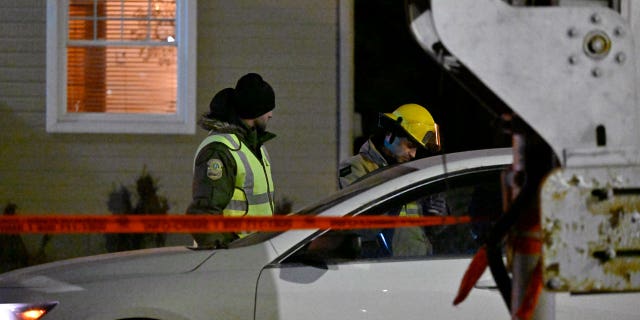 Legault said that "unfortunately this is happening everywhere in the world," adding that more support for mental health services is needed. He also said that people need to take action if they see someone around who appears to be at risk.
Police said that the condition of three of the injured is serious. Officials said the injured included two children — one under 1 year old and the other about 3 — who were both seriously injured but whose lives were not in danger.
A senior government official familiar with the matter said the incident was not related to terrorism or national security. The official spoke on condition of anonymity because he was not authorized to speak publicly on the matter.
Schools remained closed in Amqui town on Tuesday.
Amki's mayor, Sylvie Blanchett, said, "We are all shaking at the thought of what happened."
Several ambulances rushed to the scene after the collision that happened around 3 p.m.
Canada bus hits daycare center north of Montreal, killing two children, six hospitalized
David Morin, a local resident, said he could not get the picture of one of the victims out of his mind.
"He was alive when I arrived, and when I went to see the other person, I came back and he was dead," she said.
Morin said that in the moments that followed, residents rushed to help the victims. He recalled sitting next to a woman wearing a pink dress, and asking for her name as other people helped two young children.
Regional health officials in the Lower Saint-Lawrence region confirmed that six of the injured were airlifted to a Quebec City hospital.
In 2021, a man used a pickup to kill four members of an immigrant family in London, Ontario, in what Canadian Prime Minister Justin Trudeau said was a hate crime directed at Muslims.
Click here to get the Fox News app
In 2018, a van rammed into pedestrians in Toronto, killing 10 people. Alik Minassian was found guilty of 10 counts of first-degree murder and 16 counts of attempted murder. Minassian, 28, told police he belonged to an online community of sexually frustrated men, some of whom plot attacks on people they have sex with.