A group of climate protesters who damaged the base of an ancient statue in the Vatican Museums are now on trial in a Vatican City court.
In August 2022, Guido Viro and Ester Goffi glued their hands with superglue to the base of "Laocoon and His Sons", a Roman statue from antiquity.
They also affixed QR codes to the activist material attached to the base of the statue with superglue.
Climate activists deface constitutional monument in Germany with black paint, posters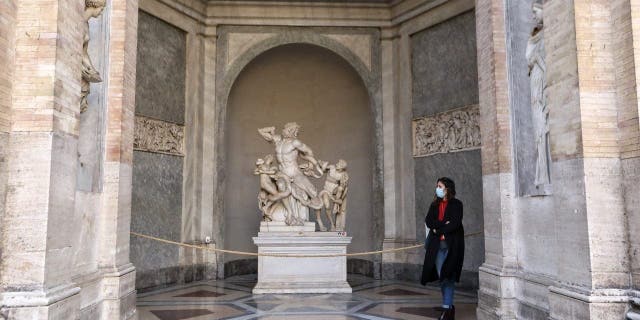 Viero, 61, and Goffi, 26, were recorded by a third person identified only as Laura, who was also charged by Vatican police.
All three are members of Last Generation – an international climate protest group known for public stunts that attempt to damage historic artwork and disrupt the peace.
Climate change protesters detained and bused on The Hague block highway
Last Generation claims Viro and Goffi face up to three years in prison and fines of more than €3,000.
He has repeatedly appealed to Vatican officials – including the Pope – for leniency, saying the goal was not to damage the ancient work of art but instead to draw attention to climate change and its effects.
Gen Z climate activist: Throwing paint, stopping traffic is protesting the privileged and unhelpful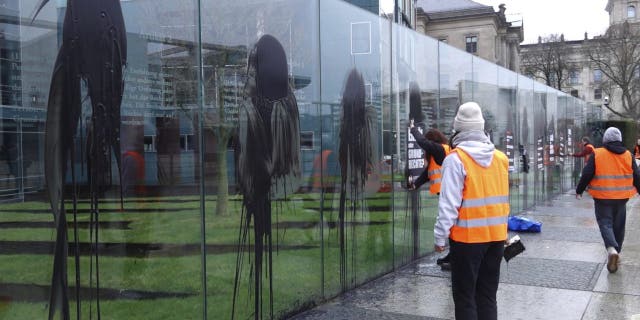 The damage done to the Vatican statue is only one of similar protests in the Western Hemisphere.
Climate activists defaced a work of art near Germany's parliament on Saturday in the latest act of vandalism by protesters related to environmental policy.
Click here to get the Fox News app
Members of The Last Generation pour black liquid over a series of glass plates, which display 19 articles German constitution, The protesters then put up posters on the front page that read, "Oil or Fundamental Rights?" in German.