Colombia is proposing to relocate at least 70 hippopotamuses that live near Pablo Escobar's former ranch – descendants of four illegally imported from Africa by the drug lord in the late 1980s – to India and Mexico As part of a plan to control their population.
The hippos, which are territorial and weigh up to 3 tons, spread far beyond the Hacienda Napoles ranch, 124 miles from Bogotá along the banks of the Magdalena River. Environmental officials estimate that there are about 130 hippos in the region of Antioquia province and that their population could reach 400 in eight years.
Escobar's Hacienda Napoles—and the hippos—have become a sort of local tourist attraction since the kingpin was killed by police in 1993.
Scientists have warned that hippos have no natural predators in Colombia and are a potential problem for biodiversity because their feces change the structure of rivers and could affect the habitat of manatees and capybaras. Last year, the government of Colombia declared them a toxic invasive species.
Drug lord Pablo Escobar's hippopotamus has become an invasive species, contaminating lakes: Study
Planning to move them to India and Mexico has been in the making for more than a year, said Lina Marcela de los Rios Morales, animal protection and welfare director at Antioquia's environment ministry.
The hippos would be lured with food in large, iron containers and transferred by truck to the international airport in the city of Rionegro, 150 kilometers away. From there, they will be taken to India and Mexico, where there are sanctuaries and zoos that are able to take in and care for the animals.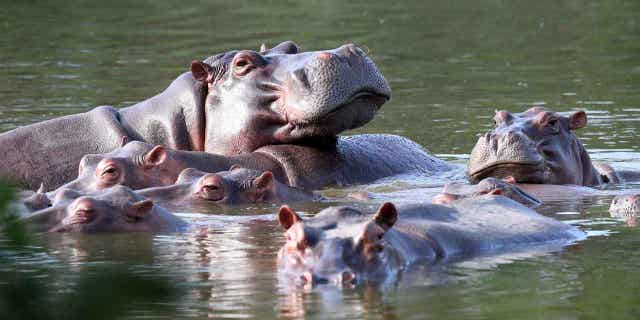 "It is possible to do this, we already have experience in relocating hippos to zoos nationwide," said David Echeverri López, a spokesman for Cornare, the local environmental authority that will be in charge of the relocation.
Pablo Escobar's hungry, hungry hippos have left this Colombian city in a state of fear
There are plans to send 60 hippos to the Greens Zoological Rescue and Rehabilitation Kingdom in Gujarat, India, which de los Rios Morales said will cover the cost of containers and airlift. The other 10 hippos will go to zoos and sanctuaries in Mexico, such as Ostoc, located in Sinaloa.
"We work with Ernesto Zazueta, the president of sanctuaries and zoos in Mexico, who liaises with the different countries and manages their rescues," the official said.
The plan is to focus on the hippos living in the rivers around the Hacienda Napoles Ranch, not those living inside the ranch because they are in a controlled environment and do not threaten the local ecosystem.
Click here to get the Fox News app
De los Rios Morales said the relocation would help control the hippo population, and although the animals' original habitat is Africa, it is more humane than the alternative proposal of exterminating them as an invasive species.
According to Antioquia's governor's office, Ecuador, the Philippines and Botswana have also expressed interest in relocating the Colombian hippopotamus to their countries.