A fire damaged part of the provincial residence of Cambodia's King Norodom Sihamoni near a famous temple complex, officials said Monday. No injuries have been reported.
A fire broke out in the northwestern city of Siem Reap on Sunday night, damaging the roof of a small building in the complex. The 69-year-old king is currently in Beijing for a routine medical check-up.
Information Minister Khieu Kanharith said there were no reports of injuries. The Ministry of the Royal Palace blamed an electrical fault on Monday.
Centuries-old Cambodian jewelery collection returned to Southeast Asian country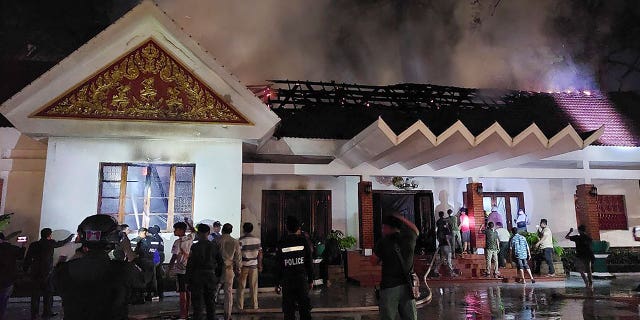 Click here to get the Fox News app
Video from state news agency AKP showed the intensity of the fire before emergency crews brought it under control and apparently spared major damage to the main residential building.
The large villa is the official home of the king when he is in Siem Reap. The main residence of King Sihamoni is a palace inside a walled compound in the capital Phnom Penh.
Siem Reap is famous for the centuries-old Angkor Wat temple complex, a historic site that is one of the country's major tourist attractions.