Rescuers retrieved two more bodies on Thursday after flooding hit two Turkish provinces that had already been devastated by last month's powerful earthquake, raising the death toll in the new disaster to 16.
Flash floods triggered by torrential rain turned roads into rivers, swept away cars and inundated homes and camps sheltering earthquake survivors on Wednesday in Adiyaman and Sanlifurfa provinces.
Most of the deaths occurred in Sanliurfa, where rescuers on Thursday found the bodies of two people who were reported missing amid mud and debris left by the floods. Search teams there were still looking for a missing person.
In Adiyaman, two people drowned when a container home that sheltered a family of earthquake survivors was swept away by strong currents. A nurse and her two-year-old child are still missing.
Boats carrying migrants sink off Turkish coast, four dead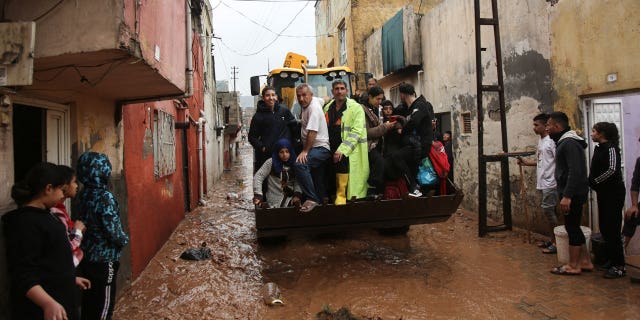 Click here to get the Fox News app
Adıyaman and Sanliurfa were among 11 Turkish provinces that were hit by a magnitude 7.8 earthquake on 6 February, killing more than 48,000 people in Turkey and an estimated 6,000 in northern Syria.
Meanwhile, a medium-intensity earthquake struck a city in northeastern Turkey on Thursday, causing people to take to the streets in fear.
The magnitude 4.8 earthquake was centered in the city of Bolu, about 162 miles east of Istanbul.
Bolu Mayor Tanju Ozcan told Haberturk television that there were no reports of damage to any buildings in the city, but many people came out in fear.
He said medics had responded to "one or two" cases of panic attacks. Some people have also been injured after jumping from the balconies.