President Emmanuel Macron faces a crucial test this week as the battle over his unpopular plan to raise the retirement age from 62 to 64 is set to climax in the streets and in parliament, deepening widely shared sentiment that he does not listen to the complaints of the French.
The 45-year-old pro-business centrist has put his legacy on the line with his pension reform plans, which are at the heart of his vision to make the French economy more competitive. But he may have to implement it through Parliament, which will damage his democratic credentials and further anger those who are opposing it.
French trade unions have called for an eighth round of nationwide protests on Wednesday. On the same day, the bill goes to a committee of seven senators and seven lower house lawmakers as part of a complex legislative process. Open-ended strikes are disrupting some refineries, train traffic across the country and garbage collection in Paris.
French President Emmanuel Macron pushes for pension reform as millions go on strike
In a letter to unions last week, Macron reiterated his views, stressing the need to raise the retirement age to make the French pension system financially sustainable in the coming years.
If the parliamentary committee reaches an agreement on Wednesday, the text is expected to be submitted for a vote in both the Senate and the National Assembly the next day. However, the outcome in the lower house, where Macron's centrist coalition lost its majority last year, is hard to predict.
If the government considers the risk that the bill will be rejected too high, it can use a special constitutional power that would force pension reform without a vote.
According to political analyst Bryce Teunturier, deputy director general of the Ipsos polling institute, such a move "would seem cruel and increase people's sense that this is an unfair measure imposed from above."
The government accepted that voting is the preferred option, as it would give more legitimacy to the pension scheme.
Opinion polls show that a majority of people oppose the reform, and that "they are of the view that … Macron will pass his law, no matter what it costs," Tinturier stressed. . "Yet that doesn't mean he has resigned … resentment and anger remain."
The use of the constitutional power will trigger a motion of no confidence. In a scenario that appears unlikely at this stage but has been raised by some government officials, it could eventually lead Macron to dissolve the National Assembly and call new legislative elections.
Macron "considers – rightly or wrongly – that if he doesn't reform, he won't be able to reform anymore," Teinturier said.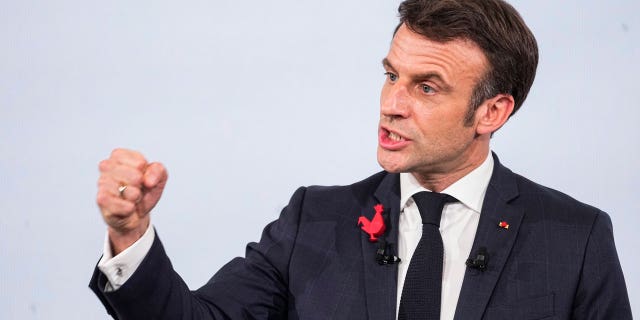 The French president has pushed his economic agenda since he was first elected in 2017 on a promise to make the country's economy more competitive, including giving people longer working hours. He made pension reform a flagship of his second – and final – term following his re-election last year.
Changes made in previous years include making it easier to hire and fire employees, cutting business taxes and making it more difficult for the unemployed to claim benefits.
The government plans to introduce a bill in the coming months that aims to reduce the unemployment rate to around 5% – one of Macron's commitments. France's unemployment rate recently hit 7.2%, its lowest rate since 2008.
Macron and government officials are mindful of the Yellow Vest protests, when violent riots erupted in late 2018 and later turned into widespread condemnation of social injustice.
This year the situation appears to be different, with unions organizing a joint protest movement in largely peaceful demonstrations.
The unions have resolved to increase the pressure on the government. Yet, so far, they have held off on calling for an open-ended general strike.
French economist Thomas Piketty strongly criticized the pension scheme, saying it "only aims to raise money without any aim of universality or simplification."
French workers continue strike against Macron's pension reform plan
"There is an urgent need for investment in education and health and the establishment of a better economic system in France and Europe, and even more so internationally. But the government continues to follow an antisocial policy from another age," he told Le Monde. Wrote in a column published in the newspaper on Saturday.
All French retirees receive a state pension. The system is projected to be in deficit in the coming decade as France's population ages.
Left-wing MPs argue that companies and the wealthy should put up more money to finance the pension system.
Daniela Ordonez, chief economist at Oxford Economics France, said other European countries are facing similar issues.
Click here to get the Fox News app
"Currently, the minimum age at which you can retire in Germany, Belgium, Spain and the United Kingdom is 65 and it is already in law … that this age will increase over the years to 67, for example , Germany and in Spain," he insisted.