A powerful paramilitary commander criticized Sudan's ruling generals on Tuesday, saying he is opposed to stepping down to allow a democratic transition under a civilian administration.
General Mohamed Hamdan Dagalo, commander of Sudan's Rapid Support Forces, said his conflict with other military leaders, which has become public in recent weeks, centers on the issue of handing power over to civilians.
"We are against anyone who wants to be a dictator," he told RSF soldiers at a military base in the capital of Khartoum.
Sudanese activist acquitted in killing of Intel agent
Sudan was plunged into chaos after a military coup in October 2021 that halted its short-lived transition to democracy after nearly three decades of autocratic rule under President Omar al-Bashir. The coup came more than two years after a popular uprising in April 2019 forced the ouster of al-Bashir and his Islamist government.
Under mounting pressure, the generals and pro-democracy groups reached a preliminary agreement in December that would allow the formation of a civilian government. Other groups, including rebels, opposed the deal and internationally backed talks were still underway to include them in the Framework Agreement, a condition the military has set for handing over power to civilians.
The dispute between Dagalo and other military generals has escalated in recent weeks. The RSF commander, who is backed by the United Arab Emirates, has recently become critical of other military leaders, partly on the issue of handing power over to civilians, but also on the military's involvement in its powerful force as outlined in the Framework Agreement. Too.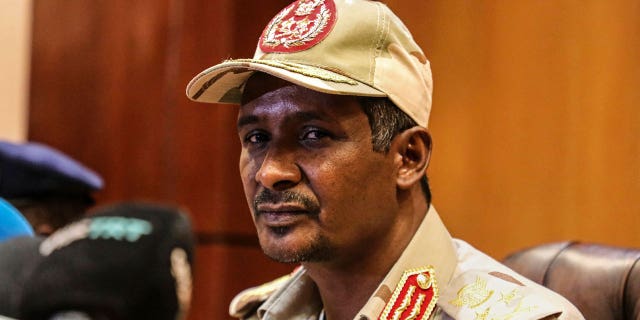 The rhetoric has fueled concerns of potential conflicts between the army and Dagalo's paramilitary force, which is best known for scorched-earth operations in the Darfur conflict, and in June 2019 opened a protest camp outside the army's headquarters. It has a major role in fatal ruptures. Khartoum.
In his speech, Dagalo downplayed any tension between his army and the military as an institution.
"There is no problem between the army and the Rapid Support (forces)," he said, cheering on the RSF soldiers. "We want to achieve a true democratic transition. We want this country to move forward."
Dagalo did not provide evidence to support his claim that the country's military leaders are opposed to handing over power to civilians. But his comments on Tuesday were apparently referring to Gen. Abdel-Fattah Burhan, chairman of the ruling Sovereign Council.
An army spokesman did not respond to calls seeking comment. Burhan had earlier said that he was ready to hand over power once the citizens settle their disputes.
Sudanese security forces shoot protester near capital
Both Burhan and Dagalo, who is also the deputy chairman of the Sovereign Council, led the 2021 coup. However, Dagalo has in recent months tried to rebuild the public image of himself and his army. He portrayed himself as a defender of the restoration of the democratic transition, calling the coup a "mistake".
In his speech on Tuesday, Dagalo said foreign countries, including wealthy Gulf monarchies and European governments, have made restoring democratic transition a condition for resuming aid to Sudan.
Following the coup, many foreign governments and international institutions halted aid to Sudan and pressured Burhan and Dagalo to end their stranglehold on power.
Click here to get the Fox News app
He said, "Whichever party we ask to support Sudan, they tell us: after the formation of a civilian government."