Scientists have found a previously unseen moai, monolithic human figures carved by the Rapa Nui people on Easter Island, in a dry lake bed on a small island in the middle of the Pacific.
Geologists were studying the site after a fire broke out in the area last year. The scientists said this could mean that more figures and tools once used by the native Rapa Nui people are buried near the underwater site.
Archaeologist Jose Miguel Ramirez said, "This is the first time, from what I understand, something has been found in the basin."
Easter Island is still recovering from the October wildfires that damaged the Moai statues
This meant that "the lake probably dried up at some point in the past, and Rapa Nui were probably taking advantage of that to move the statue," he said.
Ramirez said, "I think more moai are going to appear."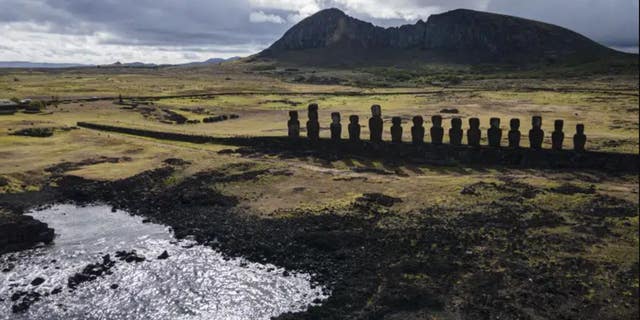 About 2,200 miles from the mainland, the Chilean territory of Easter Island is a protected national park and a UNESCO World Heritage Site. Researchers believe the island's first inhabitants arrived 1,000 years ago and its famous monolithic human figures were created around 400 to 700 years ago.
Easter Island discovery: Experts shed new light on mystery of civilization's 'collapse'
"What we have seen today is very important, because it is part of the history of the Rapa Nui people," said Salvador Atan Hito, a leader of the Maui Henua indigenous community that oversees the site.
Researchers said the half-buried, 5-foot moai will now be tested to determine what condition it is in. While Easter Island is littered with hundreds of colossal stone heads, they face threats from the elements, including the fires that led to the discovery of this statue.
Click here to get the Fox News app
Reuters contributed to this report