Serbia denied on Friday that it exported weapons to Ukraine as Moscow demanded to know whether its Balkan ally has delivered thousands of rockets for Ukraine's fight against Russia's invasion.
Serbian Foreign Minister Ivica Dacic stated that since the start of the war in Ukraine, no weapons have been exported from Serbia to any of the parties to the "conflict".
"I can say this because my ministry allows the export of (weapons)," Decic said. "Serbia does not provide military equipment to any country that we think would be problematic in any way."
Serbia, Kosovo back EU diplomacy plan
Russia on Thursday demanded an official explanation from its ally Serbia over reports that the Balkan country has delivered thousands of rockets to Ukraine.
Russian Foreign Ministry spokeswoman Maria Zakharova expressed "deep concern" about the reports, which first emerged from pro-government Russian media last month.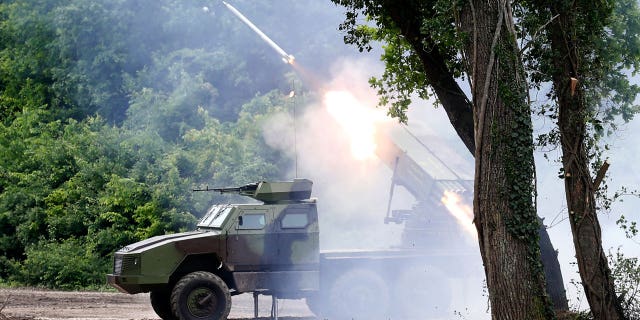 "We are following this story," Zakharova said in a statement posted on the Russian Foreign Ministry's website late Thursday. He added that Ukraine's potential arms embargo represented a "serious question" for Serbian-Russian relations.
Media reports say that a Serbian state arms factory recently delivered about 3,500 missiles for Grad multiple rocket launchers used by both the Ukrainian and Russian armed forces. The 122 mm rockets were reportedly sent to Ukraine via Turkey and Slovakia.
Serbian Defense Minister Milos Vucevic has denied that the country has exported missiles to Ukraine, but left open the possibility that they could have gotten there through a third party.
Serbia, stuck between Europe and Russia, may come one step closer to normalizing relations with Kosovo
"If private companies buy weapons in the markets of third states and then sell them to other companies in other countries, it is not a question for Serbia, it is international trade," he said.
Serbia is Moscow's closest ally in Europe, with historical, religious and cultural ties that have been fueled by decades of pro-Russia propaganda campaigns in the Balkan country.
Russia supports Serbia's claim on its former province of Kosovo, which declared independence in 2008 with Western backing. And Serbia has refused to impose sanctions on Moscow over the invasion.
Click here to get the Fox News app
Western officials fear Russia could use rising tensions in Kosovo to try to destabilize the Balkans and deflect some attention from its invasion of Ukraine.