Clashes broke out in Athens on Thursday during a general strike in Greece called in response to a train crash last month.
Protesters threw petrol bombs at a police cordon near Parliament. Riot police responded with tear gas and sound grenades, disrupting large, peaceful demonstrations during brief flare-ups of violence. There were no immediate reports of injuries or arrests.
The strike resulted in grounding of flights and widespread disruption of services, while large-scale protests were also held in other cities across the country. There were also clashes between youths and police in the southern port city of Patras.
The strike also grounded ferries to Greek islands at port, left public hospitals running short of emergency staff, halted public transport services and canceled classes at state-run schools.
Unions have rallied behind railway workers' unions since a head-on train collision in northern Greece killed 57 people and injured dozens on February 28.
Popi Tsapanidou, a spokeswoman for the main left-wing opposition party Syriza, told private Sky television: "This government has four years to fix the problems of the rail network, but instead of accepting that responsibility, they are blaming everyone else." Are."
'Mafia-style attack' on archaeologist sparks protests in Greece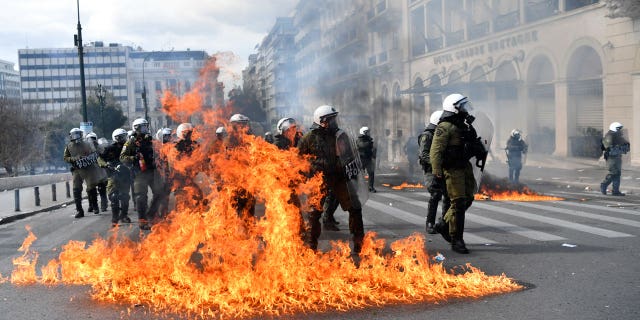 Click here to get the Fox News app
The main protests were held in Greece's second largest city, Thessaloniki, and the capital, Athens, where thousands of people chanted "this crime will not be forgotten" as they stormed a police cordon outside a private rail operator.
Shops and banks downed their shutters as protesters brought the capital to a standstill. A variety of labor unions – from those representing lawyers to delivery drivers – joined the strike.
The government, which faces a parliamentary election before the summer, says rail services will resume on March 22 and be gradually restored by April 11, with extra staff, safety and mandatory speed reduction rules. With sections of track to monitor.
The centre-right government of Prime Minister Kyriakos Mitsotakis has seen a strong lead over its main rival, Syriza, in opinion polls that have plummeted in recent weeks, with the two sides also locked in an ideological debate over how to reform Greece's antiquated rail network. Is done.
Mitsotakis has promised clear boundaries between privatized services and the authorities overseeing them, seeking EU experts' help in drafting the changes. His political opponents argue that poor management of agencies under state control ultimately compromised rail safety.