Tens of thousands of junior doctors went on strike across England on Monday to demand better pay, causing three days of widespread disruption to Britain's state-funded hospitals and health clinics.
Junior doctors – those who are qualified but in the early years of their careers – make up 45% of all doctors in the National Health Service. Their walkout means operations and appointments will be canceled for thousands of patients, and senior doctors and other medics will have to be drafted in to cover emergency services, critical care and maternity services.
The British Medical Association, the doctors' trade union, says junior doctors' pay has fallen by 26% in real terms since 2008, while workloads and patient waiting lists are at record highs. The union says burnout and the cost of living crisis in Britain is driving vast numbers of doctors away from the public health service.
Trains cancelled, schools closed after blizzard in United Kingdom, strong winds hit the country
The union said newly qualified physicians earn only $17 an hour.
"Junior doctors are only asking for salaries that match our skill sets," said Rebecca Lisman, 29, an intern in obstetrics and gynaecology. "We love the NHS, and I wouldn't want to work in private practice, but I think we are seeing an erosion of public services."
"I want to stay at work, take care of people, train. I don't want to be here striking, but I feel I have to," she said.
Other health workers, including nurses and paramedics, have also gone on strike in recent months to demand better pay and conditions. NHS figures show that more than 100,000 appointments have already been postponed this winter as a result of the nurses' walkout.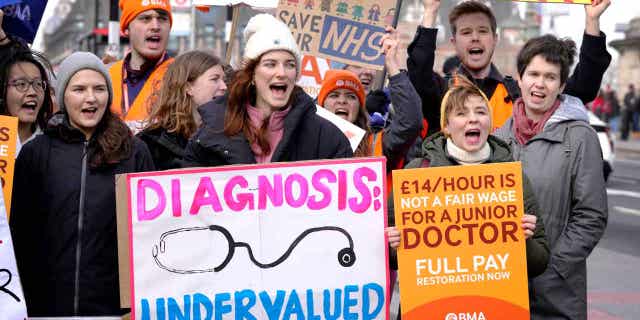 Stephen Powis, medical director of NHS England, said the 72-hour strike this week was expected to have the most serious impact and would cause "widespread disruption".
Some cancer care is likely to be affected, with routine appointments and some operations, he said.
UK school blasted for replacing girls' bathroom mirrors with 'provocative' posters: 'Very medieval'
Prime Minister Rishi Sunak told reporters on Sunday that it was "disappointing that the union of junior doctors is not engaging with the government." The doctors' union said authorities have refused to engage with their demands for months, and a recent invitation to talks came with "unacceptable" pre-conditions.
The doctors' strike this week will coincide with a mass walkout by thousands of teachers and civil servants on Wednesday, the day the government unveils its latest budget statement.
A wave of strikes has upended the lives of Britons for months, as workers demand pay rises to keep pace with rising inflation, which hit 10.1% in January. That was down from November's peak of 11.1%, but still the highest in 40 years.
Click here to get the Fox News app
Others in the public sector, including train drivers, airport baggage handlers, border staff, driving examiners, bus drivers and postal workers, have all quit their jobs to demand higher wages.
Unions say wages, especially in the public sector, have fallen in real terms over the past decade, and the cost-of-living crisis triggered by rapidly rising food and energy prices has left many people unable to pay their bills. have given up fighting for.