A coalition of six parties on Monday named Kemal Kilicdaroglu, leader of the main opposition party, as their common candidate to challenge President Recep Tayyip Erdogan in May elections, ending the uncertainty and discord that has plagued his supporters. happened.
The coalition tapped the leader of the pro-secular, center-left Republican People's Party, or CHP, hours after a prominent member of the grouping – who had rejected Kilicdaroglu's candidacy – agreed to a compromise solution and returned to the coalition. Went.
Turkey heads toward decisive presidential and general elections on May 14 that could steer the country toward a more democratic course or extend Erdogan's increasingly authoritarian rule into a third decade.
Lawyers demand probe into alleged human rights crimes committed by Turkey
The elections are the toughest during Erdogan's 20-year rule and come amid economic turmoil and criticism of the government's response to last month's devastating earthquake.
"Our biggest goal is to lead Turkey towards prosperous, peaceful and joyful days," Kilikdaroglu said after being nominated as thousands of supporters cheered.
Meral Aksener, who leads the nationalist Eyi party, broke away from the coalition on Friday over Kilicdaroglu's candidacy. Its withdrawal from the coalition was seen as a major boost for Erdogan.
A former interior minister whose party is the second largest party in the opposition bloc, Aksener was reported to support either the popular mayors of Istanbul or Ankara instead of Kılıkdaroğlu.
Officials said Aksener returned to the coalition following the agreement, where Istanbul Mayor Ekrem Imamoglu and Ankara Mayor Mansur Yavas would be named as vice-presidents.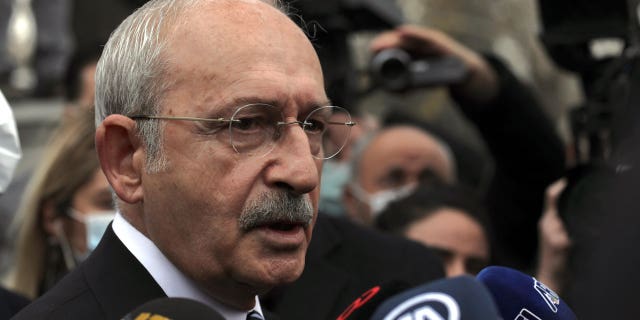 Kilikdaroglu, 74, has failed to win a national election in the 13 years he has led the CHP. The two mayors – both from the CHP – are showing more favorable polling ratings against Erdogan than against Kilikdaroglu.
A former bureaucrat, Kilikdaroglu was head of Turkey's social security body before being elected to parliament in 2002. He came to prominence after exposing alleged corruption involving members of Erdogan's party and was elected to replace the former CHP chairman who stepped down following a sex scandal.
The six-party grouping known as the Nations Coalition has vowed to restore a parliamentary democracy in Turkey if they oust Erdogan, ending the presidential system he introduced. Opponents say the system, which was narrowly approved in a 2017 referendum and installed after elections in 2018, amounts to "one-man rule" without checks and balances.
"We will rule Turkey through consultation and consensus," Kilikdaroglu said. "As the heads of the political parties that make up the national coalition, we have also agreed on a road map for transition to a stronger parliamentary system."
Is Turkey Russia's Secret Weapon Inside NATO?
A joint statement issued after Kilicdaroglu's nomination said that the leaders of the five other parties would serve as vice-presidents. According to the statement, the mayors of Ankara and Istanbul will also be appointed as vice presidents at the "appropriate time".
Besides the CHP and Iyi, the members of the coalition are: Temel Karamollaoglu's conservative Felicity Party; Gultekin Uysal's Democrat Party; Democracy and Progress Party led by Ali Babakan; and the Future Party, headed by Ahmet Davutoglu.
Babakan served as economy minister under Erdogan while Davutoglu once led his government as prime minister.
Outside the coalition is the pro-Kurdish People's Democratic Party, the second largest opposition party. That party is facing closure after a crackdown by the government for alleged links to banned Kurdish militant groups.
Click here to get the Fox News app
Meanwhile, Erdogan said after a cabinet meeting on Monday that the May 14 election date would be formalized later this week.