Women in Turkey braved an official ban on an International Women's Day march in Istanbul, demonstrating for nearly two hours before police used tear gas to disperse the remaining protesters and detained several Did.
Thousands of people gathered in a central neighborhood on Wednesday for a protest linking women's rights as well as the aftermath of the deadly earthquakes that struck Turkey and Syria a month ago.
Organizers – for the second straight year – were forbidden from marching through the popular Istiklal pedestrian avenue in Turkey's biggest city, where Women's Day marches have been held since 2003. Police had blocked protesters' access to the avenue. An Associated Press reporter saw officers detain at least 30 people and use tear gas after the group ended its demonstration at 2100 local time (1800 GMT).
Brazil's Lula uses Women's Day to announce new spending plans
Local authorities banned the march, saying that the area was not an authorized protest site. They also claimed that the march could "inflame" sections of Turkish society, lead to verbal or physical attacks, be misused by terrorist groups and threaten national security – as well as cultural and may reduce freedom of movement in the tourism sector.
Nearby metro stations were closed.
Lale Pesquet, a 28-year-old theater student, said it was unfair.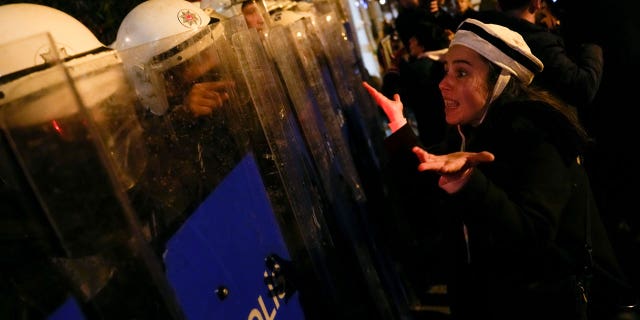 "We are not harming anyone, but unfortunately, we face police violence every now and then," she said. "Our only concern is the liberation of women, we want free space in the world without violence and better economic conditions especially for women."
Protesters hold banners reading "We are angry, we are in mourning" for the more than 46,000 people killed in buildings widely considered unsafe in Turkey and left hundreds homeless in the February 6 earthquake .
Turkish opposition leaders nominate Erdogan challenger
A banner read "Control the contractors, not the women", referring to contractors who are accused of ignoring building regulations and contributing to the mayhem.
Gulsum Ozturk, a 23-year-old university student, said, "Living as a woman in Turkey is already difficult enough and there's a reason we're here…the earthquake…and the people buried in the rubble."
Protest organizers also criticized the government for withdrawing from a European treaty – signed in Istanbul in 2011 and named after the city – that protects women from domestic violence, and "endangering the lives of millions of women."
Click here to get the Fox News app
Turkey's We Will Stop Femicide platform said 328 women were killed by men in the past year.