The international community and the Syrian government did not act fast enough to help those in need in the rebel-held northwest after last month's devastating earthquake in Turkey and Syria, a UN commission said Monday.
February 6 A magnitude 7.8 earthquake and strong aftershocks devastated southern Turkey and northwestern Syria, killing more than 50,000 people, including more than 6,000 in Syria.
The Independent International Commission of Inquiry on Syria said there should be an inquiry into why it took a week for aid to cross the border to flow in. It said war-torn Syria "now needs a comprehensive ceasefire that is fully respected" in order for civilians, including aid workers, to be safe.
UN official says earthquake death toll in Syria likely to rise
It took a week for the United Nations and Syrian President Bashar Assad's government to agree to open two more border crossings into rebel-held territory bordering Turkey as many people were still trapped under rubble.
"Since the earthquake, we have seen many actions by the Syrians themselves to help the victims," ​​commission member Paulo Pinheiro said during a press conference in Geneva. He added that "we witnessed a complete failure by the government and the international community, including the United Nations, to rapidly direct immediate life-saving aid to northwest Syria."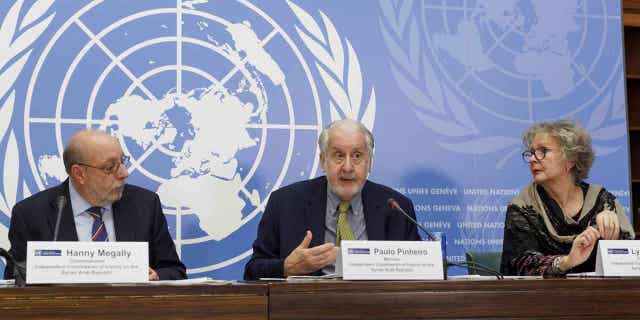 "Without help for survivors of the earthquake, many days were wasted," Pinheiro said. "Actors not fast enough to direct immediate life-saving aid to northwest Syria become epicenter of neglect."
Initial earthquake aid delay blamed on Syria's Assad, warring factions and bureaucracy
A week after the earthquake, the United Nations announced that Syrian President Bashir Assad would open two new crossing points from Turkey for three months to deliver the aid and equipment needed to help earthquake victims in the rebel-held northwest of the country. agreed upon. Previously, the UN had been allowed to deliver aid to the northwest Idlib region only through a crossing at Bab al-Hawa, at the insistence of Syrian ally Russia.
"They failed to deliver international emergency aid, including rescue teams and equipment, in the critical first week after the earthquake," Pinheiro said. His most desperate time."
Click here to download Fox News App
Pinheiro said, "Many voices are rightly demanding… for an investigation and accountability to understand how this failure happened, how this disaster happened beyond the earthquake."