The US is imposing more sanctions on Iran, hitting out at people and firms accused of violating women's rights during nationwide anti-government protests over the treatment of young women and girls.
The sanctions include two prison officers, several companies that make equipment for Iranian law enforcement, the commander in chief of the Iranian military, and others.
The nationwide protests first began over the September 16 death of 22-year-old Mahsa Amini in the custody of Iran's morality police. She was accused of violating Iran's strict dress code for women by improperly wearing a headscarf. Those protests have been going on for months.
Subsequently, a series of suspected poisonings at girls' schools across the country that sickened hundreds of students fueled claims of violations of women's and girls' rights and sparked protests.
Secretary of State Antony Blinken said in a statement that the US government is "deeply concerned that Iranian authorities continue to suppress dissent and peaceful protest, including mass arrests, show trials, summary executions, detention of journalists and involving the use of sexual violence." as a means of suppressing protest.
UN cultural agency expresses concern over suspected poisoning of Iranian schoolgirls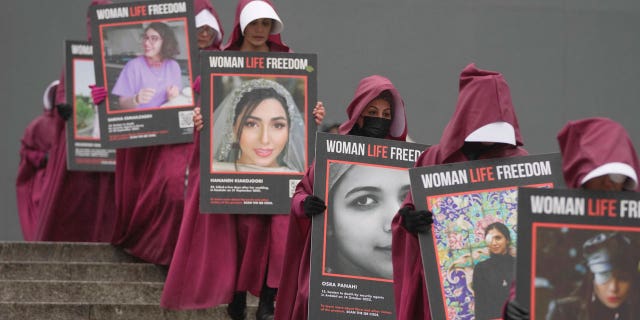 Click here to get the Fox News app
Brian Nelson, the Treasury's Under Secretary of State for Terrorism and Financial Intelligence, said in a statement that Iran's government "treats women as second-class citizens and seeks to suppress their voices by any means necessary."
"We will continue to take action against regimes that perpetrate abuse and violence against their own citizens – especially women and girls," Nelson said.
The latest restrictions were imposed in coordination with the European Union, the United Kingdom and Australia, with the announcement deliberately made on International Women's Day.
Among other things, the sanctions deny individuals and firms access to any assets or financial assets held in the US and prevent US companies and citizens from doing business with them.
The US has taken several steps to isolate Iran from the global community as the protests continue. In November, the US announced it wanted to expel Iran from the United Nations, the main global body fighting for gender equality. Vice President Kamala Harris said Iran is "unfit" to serve on the commission and that its presence "discredits the integrity" of its work.
In February, Iran's government celebrated the 44th anniversary of the 1979 Islamic Revolution, which brought the Shia theocracy to power.