Four people were seriously injured in a knife attack at a gym in the western German city of Duisburg, police said on Tuesday evening.
No arrests were announced, and police said they were looking for a suspect. The motive for the attack was not immediately clear.
The incident took place in Duisburg's old town and police asked residents to stay at home and avoid the area. He said a large number of officers were present at the site of the attack, right in front of City Hall.
German police report 7 soldiers injured in armored vehicle crash on Bavarian highway
Duisburg police tweeted that three people remained in serious condition and one person was less seriously injured. All four injured are German nationals, police tweeted, without giving any further details about their identities.
"As per current information, a person has injured other people at a gym with an object", he tweeted earlier.
Police said a "stabbing or cutting weapon" was used in the attack, but gave no further details.
German news agency DPA reported that the attacker still appeared to be at large.
"No arrests have been made," police told dpa. The search is on for the attacker. Investigators also said it was too early to talk about a possible motive for the attack.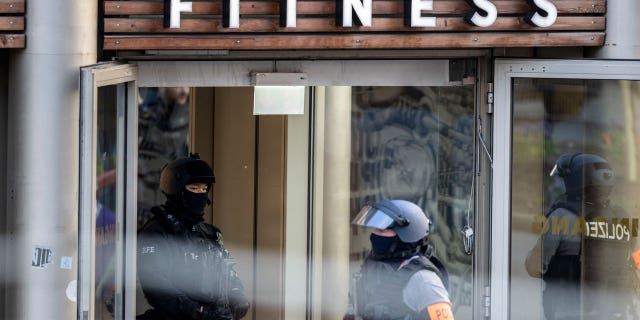 DPA reported that several victims were taken to hospital while investigators searched the gym. Several witnesses to the attack, some still with their sports bags, were taken to a nearby restaurant so police could question them.
Helicopters were hovering over the gym and psychologists were brought in to help the shocked witnesses.
Police said they received the first emergency call at around 5:40 pm local time.
Duisburg has approximately 500,000 inhabitants and is located at the junction of the Rhine and Ruhr rivers. It used to be famous for its coal mining and steel production, but has been plagued by high unemployment and poverty in recent decades.
The speaker of the German parliament, Berbel Bas, who is from Duisburg, expressed his condolences over the attack.
Bass tweeted, "Terrible. My thoughts are with the injured." "I hope the emergency services will be able to address the threatening situation soon."
Climate activists announce plans for protest in Berlin, will try to 'bring the city to a peaceful standstill'
Hours after the attack, the gym operator said he deeply regretted the incident.
"We deeply regret the incident at our club in Duisburg and wish the victims a speedy recovery," John Reed Fitness wrote in an email to dpa.
The gym chain, which has branches in several cities in Germany and other countries, said it was supporting the police investigation and that "the safety and health of our members and our employees is our top priority."
Click here to get the Fox News app
Last month, a gunman stormed a service at his former Jehovah's Witness hall in the northern German city of Hamburg, killing six people before taking his own life as police arrived.