Mexico's president returned to his morning press conference on Friday after recovering from COVID-19, and he came out beaming.
President Andres Manuel Lopez Obrador, 69, said he had tested negative after his third bout of coronavirus.
His return came on the same day as opposition legislators continued protests in the Senate after senators from López Obrador's Morena party refused to approve appointments to the national information-access agency.
Mexico's president blacks out during a meeting due to COVID-19 complications
The transparency agency has been unable to function for more than a month due to shortage of committee members. López Obrador came out on Friday and said the agency should be disbanded to save money.
López Obrador said, "Let the Office of the Federal Comptroller, which belongs to another branch of government, the legislative branch, take over and let this agency disappear. Enough of playing pretend." "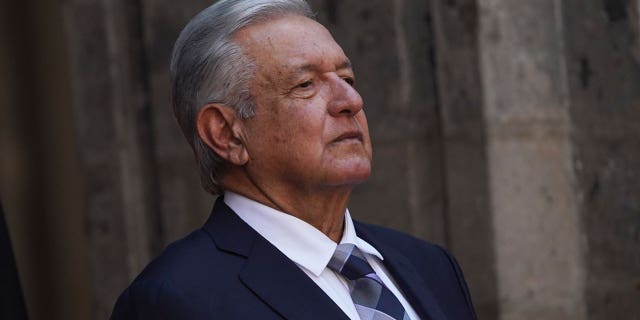 Formally known as The Institute for Information Access and Transparency, or INAI, the government-funded agency is autonomous and decides what information the government should release to the public. Its autonomy is to ensure that no branch of government can block public access to information.
Mexican President Blames US for Alleged Spying on IT After Cartel Arrests
Currently with only four committee members – there should be seven, but it can function with five – the institute cannot make decisions.
Legislators from López Obrador's Murray party late Thursday voted against approving the appointment of a fifth committee member, prompting opposition senators to chant "INAI NOW!" and "Appointment for INAI now!"
A leader of the Murray delegation in the Senate, César Craviotto, was seen slapping and punching the hands of opposition lawmakers to clear away the banners.
Click here to get the Fox News app
After the scuffle, it was unclear whether the Senate would be able to meet in the Senate chamber on Friday.