An appeal by a suspect in the bombing that killed a famous Russian military blogger was rejected by a court in the Russian capital on Monday.
The Moscow City Court rejected Darya Trepova's appeal against her arrest for her involvement in the April 2 bombing that killed Vladlen Tatarsky and injured 50 others at a Saint Petersburg cafe. It upheld a lower court ruling that had ordered Trepova to remain in custody for two months pending an investigation.
Tatarsky, 40, a strong supporter of the Kremlin's military crackdown in Ukraine, was killed as he was leading a discussion at a riverside cafe in the historic heart of Russia's second largest city.
Trepova, a 26-year-old St. Petersburg resident who was seen on video presenting Tatarsky with a statuette before the explosion, was immediately arrested. Russian media reported that Trepova told investigators she was asked to deliver the statuette but did not know what was inside.
Russian warplane accidentally drops ammunition on Russian border town
Russian officials called the bombing an act of terrorism and blamed Ukrainian intelligence agencies for organizing it. Ukrainian officials have not directly responded to the allegation, but an adviser to Ukrainian President Volodymyr Zelensky has described the bombing as part of Russia's internal unrest.
Earlier this month, Russia's Federal Security Service, known by its Russian acronym FSB, alleged that a Ukrainian national it identified as Yuri Denisov collected information on the blogger and supplied explosives to Trepova through a courier service.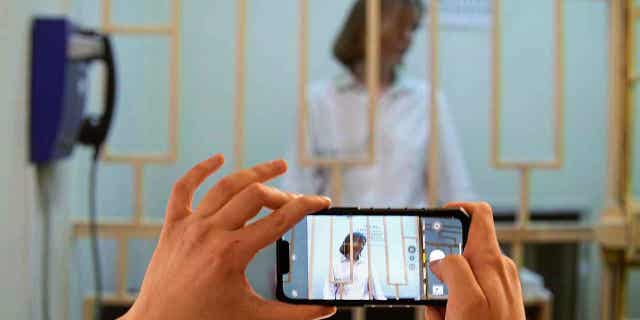 The FSB claimed that Denysov acted on orders from Ukrainian security services and left Russia the day after the bombing, the latest attack on a high-profile pro-war figure inside Russia. Last year, a nationalist TV commentator was killed when a bomb exploded in his SUV outside Moscow.
Russia says it has captured three more districts in Bakhmut
Tatarsky was the pen name of Maxim Fomin, who has amassed over 560,000 followers on his Telegram messaging app channel. He joined separatists in eastern Ukraine after a Moscow-backed uprising in 2014 and fought on the front lines for years before turning to blogging.
Military bloggers have taken an increasingly prominent role in Russia amid fighting in Ukraine, supporting the Kremlin but often highlighting flaws in military strategy. Authorities have shut down independent media outlets and silenced any criticism of the military crackdown.
Click here to get the Fox News app
The FSB claimed that Trepova was a supporter of jailed Russian opposition leader Alexei Navalny and claimed that Navalny's top aides Ivan Zhdanov and Leonid Volkov have repeatedly called for subversive activities in Russia.
Zhdanov has alleged that authorities may try to use the explosion to extend Navalny's prison term and add the anti-corruption foundation he founded to Russia's list of terrorist organizations.