Police in Canada said Thursday they will never know why a man went on a knife rampage last year that killed 11 people and injured 17.
The Royal Canadian Mounted Police released details at a press conference on the September 4 killings in the James Smith Cree Nation and the nearby Saskatchewan village of Weldon, but did not specify a motive.
Miles Sanderson, the 32-year-old accused in the attacks, died in police custody a few days later.
Canadian professor convicted of 1980 Paris synagogue bombing
Officer in charge of Superintendent Major Crimes, Joshua Graham, said Miles Sanderson and his brother Damian Sanderson went to the James Smith Cree Nation on September 1 to deal drugs.
The day before the massacre, Damian Sanderson told people at a nearby bar that he had a "mission to do" and that "people will hear about it in the next few hours." However, Damian Sanderson was one of the first people to be murdered in the stampede that morning.
Saskatchewan RCMP commanding officer, Assistant Commissioner Rhonda Blackmore, said that since both Miles and Damian Sanderson are dead, "some pieces of information may never be known."
"To speak exactly about their mindset and what they were thinking, we can't necessarily address that," Blackmore said at the news conference.
Miles Sanderson and Damian Sanderson got into a fight in a vehicle after the brothers attacked a man with scissors in their home. An injured Damian Sanderson fled the scene, leaving the vehicle in the trees by the side of the road. His body will be kept there the next day.
Myles Sanderson continued to visit various homes in the community, attacking some and killing others. He threatened other people, saying they were lucky they weren't hurt because he stole some of their vehicles.
On September 9, after three days of searching and hundreds of reports of sightings, police arrested Miles Sanderson on a highway near Rostern, Saskatchewan. He went into medical trouble soon after being placed in custody and died.
Blackmore was asked why the RCMP could not apprehend Miles Sanderson sooner.
"His attacks were unexpected," she said. "As fast as information was coming in about the vehicle he was in, he was leaving that vehicle and going on foot and then stealing other vehicles.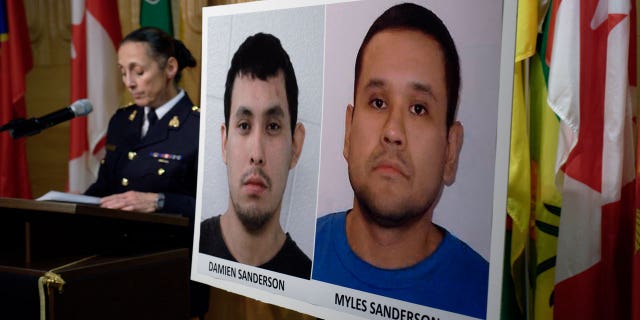 "It was a very fast-paced, very dynamic and chaotic situation."
Police say that even after almost eight months have passed, the investigation into the stabbing incident has not been completed.
Blackmore said the RCMP investigated 42 different crime scenes, including buildings and vehicles. They also seized nearly 700 exhibits and spoke with more than 250 witnesses.
A handful of people from the community in Melfort attended the presentation, but the victims and their families received the update on Wednesday.
Daryl Burns, whose sister Lydia Gloria Burns was found stabbed to death, said it gave some closure.
"The way the morning unfolded there was so much confusion, so much turmoil," Burns said. "Looking back at it, you couldn't really tell where he was going or what he was going to do."
He said there was a lot of emotion and "a lot of sadness and grief" upon hearing the timeline.
Police said the update would not affect two coroner's inquests scheduled for early next year.
One of the inquiries is to focus on the murders, while the other is to look into the suspect. Police have said Sanderson went into medical trouble shortly after being arrested near the Saskatchewan town of Rostern.
An independent investigation is also being conducted by Saskatoon Police and the Saskatchewan Serious Incident Response Team.
Details of the extensive criminal history of mass stabbing suspect Miles Sanderson in Canada
Police previously released few details about the fatal attack on the First Nation, about 105 miles northeast of Saskatoon.
Four dangerous persons alerts were issued just before 10am, stating that there were several victims and giving details of the suspects and the vehicle in which they were traveling.
Later that day, police announced that several people were killed or injured in attacks at 13 locations.
The province was on edge and the police were on the lookout for days. Blackmore said police received tips from across Canada about people who had definitely seen Miles Sanderson.
"It takes time as we assess information as it comes in to determine what is or is not reliable information as it comes out," she said.
The matter was adjourned till 7 September. A 911 call about a stolen white truck came in from the town of Wakaw, about 68 miles southwest of First Nation. Police cars raced along the rural roads of the area and a helicopter hovered overhead.
Click here to get the Fox News app
The suspect vehicle crashed into a ditch near Rosthorn and crashed into trees along the highway. Miles Sanderson was taken into police custody, but shortly afterwards he went into medical trouble and died.