A Palestinian gunman shot and wounded two Israelis in Jerusalem on Tuesday, police said, the latest bloodshed in a year-long cycle of violence that is showing no signs of abating.
Meanwhile, in the northern occupied West Bank, the epicenter of fighting for the past year, Israeli forces carried out an arrest raid on the Jenin refugee camp, prompting Palestinian militants to open fire. At least six Palestinians were wounded in the shelling, Palestinian health officials said, including a paramedic who was hit by shrapnel. Residents of the refugee camp reported that three Palestinians had been arrested.
Tuesday's events escalated tensions in Jerusalem and the occupied West Bank during a rare convergence this month of the Jewish holiday of Passover and the Muslim holy month of Ramadan.
'No such thing' as Palestinian people, says top Israeli minister
Israeli police were searching for the suspected gunman who fled the scene in the Sheikh Jarrah neighborhood of East Jerusalem. Two Israelis shot inside their car were treated for moderate wounds. Purported security footage from the incident shows the assailant running towards their parked car and opening fire at close range before bolting.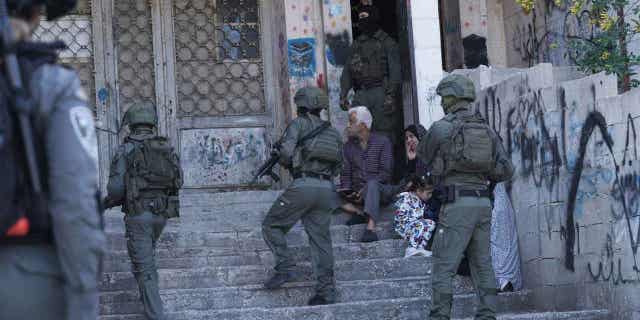 Israeli forces kill three Palestinian militants in West Bank shootout
Tension escalated in Israel and the occupied West Bank after an Israeli police raid on the compound of the Al-Aqsa Mosque, Jerusalem's most sensitive holy site. The mosque is located on top of a hill known to Jews as the Temple Mount and to Muslims as the Noble Sanctuary, which is considered the third holiest site in Islam and the holiest site in Judaism.
The raid sparked outrage in the Muslim world and prompted Palestinian militants to fire rockets at Israel from southern Lebanon and the Gaza Strip earlier this month. The Israeli army retaliated by attacking sites affiliated with the Palestinian group Hamas in those areas.
Click here for the Fox News app
At least 20 people, including a soldier, have been killed in Palestinian attacks against Israelis since the beginning of this year. At least 92 Palestinians have been killed by Israeli fire so far this year, according to a tally by The Associated Press. At least half of them have been affiliated with militant groups.