The opposition-run city of Buenos Aires said on Tuesday its police would start using stun guns, matching a similar move nationwide in Argentina as authorities seek to address an election year rife with crime.
The Argentine capital will import 150 Tasers in the coming weeks, and officers will begin using them in June or July after proper training, Eugenio Burzaco, the city's Minister of Security and Justice, told a local radio station.
Stun guns are in use among police agencies in the United States and several other countries, including Brazil, which deliver an electrical charge for the purpose of immobilizing a suspect. In Argentina, human rights groups have raised concerns that their less-than-lethal label opens the door for police officers to use them indiscriminately.
Argentina government defends chaotic World Cup parade that forced players to leave via helicopter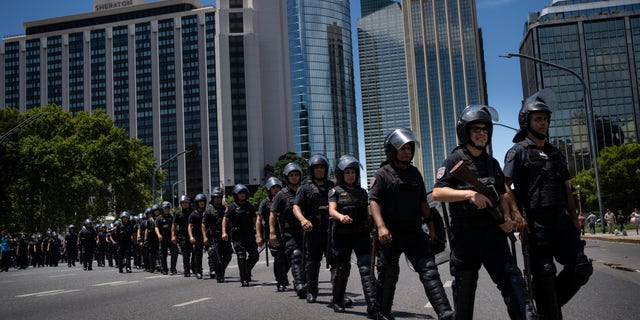 Click here to get the Fox News app
The Buenos Aires city government is run by politicians from the National Alliance opposed to Argentine President Alberto Fernandez, who announced two months ago that national security forces would begin using stun guns. Security Minister Anibal Fernandez said more than 100 stun guns would be used by specially trained elite forces.
Opinion polls have shown insecurity is close behind inflation as Argentina's top concern ahead of October's general election, and politicians have prioritized addressing crime.
In Buenos Aires, stun guns would be used mostly in crowded places such as train stations or the city's subways.
Burzacco also said that they would be particularly suitable for situations when officers are under attack but are hesitant to use firearms because the attackers are only armed with knives – a situation that has in the past caused problems for police officers. life is claimed.