Colombia's government and representatives of the country's largest remaining guerrilla group met on Tuesday in Cuba to resume peace talks aimed at reaching a ceasefire and resolving the 1960s conflict.
The talks, which resumed in November shortly after President Gustavo Petro was elected as Colombia's first leftist president, are the third round of talks with the communist-inspired National Liberation Army, known as the ELN.
Colombia hosts multinational summit on Venezuelan political crisis
"We encourage you to take advantage of the magic, the mysticism and the hope that Cuba has always offered," said Cuban Foreign Minister Bruno Rodríguez, welcoming Colombian government officials and a delegation of ELN to the capital, Havana.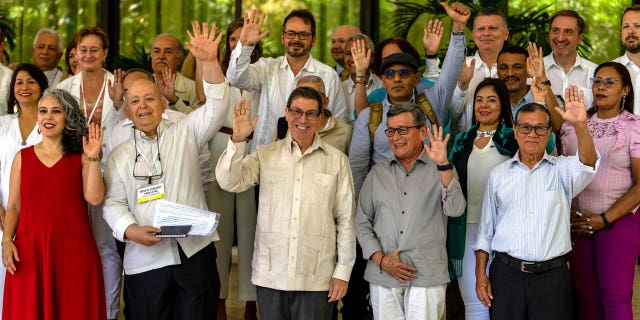 The rebels' chief negotiator, Pablo Beltrán, said the ELN was committed to "change" to achieve peace and called the meeting a "historic coincidence" to reach a bilateral ceasefire.
Militants attack Colombian army, killing nine soldiers
Tuesday's meeting was marked by a surprise appearance by Nicolás Rodríguez Bautista, aka Gabino, who led the ELN from the 1990s until 2021, when he quit citing health reasons. Gave.
Also in attendance were Colombian senators Iván Cepeda and María José Pizarro, who said the talks seek to find a "real solution for a country overwhelmed by six decades of war".
Click here to get the Fox News app
Petro has said that peace talks with the ELN are a cornerstone of his plan to bring "complete peace" to the country of 50 million people, where some rural areas are still held by drug gangs and rebel groups despite a 2016 peace deal. Large Revolutionary Armed Forces of Colombia, or FARC.