The US Navy said Iranian forces captured a foreign vessel on Wednesday, the second to be harassed and seized by the Middle Eastern country in a week.
The Panama-flagged commercial oil tanker Niovi was passing through the Strait of Hormuz between the Persian Gulf and the Gulf of Oman when Iran's Islamic Revolutionary Guard Corps Navy (IRGCN) seized it.
New video shows Iranian commandos landing on US-bound tanker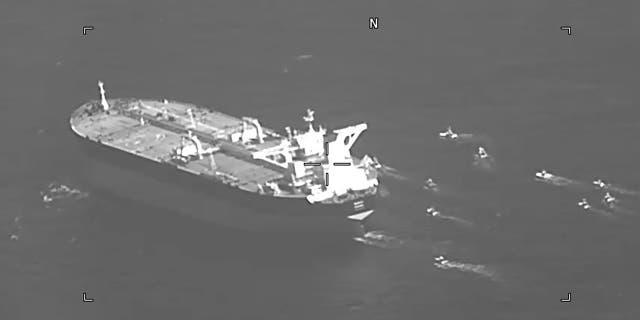 About 12 members of the IRGCN swarmed and surrounded Niovi via fast assault craft. The IRGCN then forced the crew to turn the ship around and return to Iranian territorial waters.
The Panamanian oil tanker was on its way from Dubai to Fujairah in the United Arab Emirates when it was intercepted.
Air force squadron in Middle East with 'bunker busted' bombs to counter Iran
Declassified video footage released by the US Navy shows an aerial view of the Iranian operation.
This is the second illegal seizure of a foreign vessel by Iran in less than a week.
Click here to get the Fox News app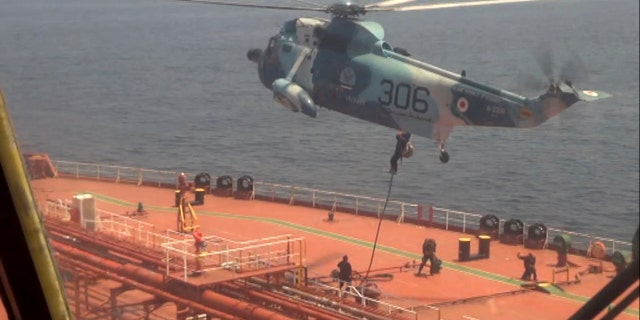 The Marshall Islands-flagged oil tanker Advantage Sweet was taken over by Iranian forces after leaving Kuwait last week on the way to houstonThe US Navy announced on Sunday.
Video of Advantage Suite incident shows Iranian military approaching oil tanker via helicopter gulf of oman,